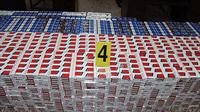 Mobile teams of the National Customs Authority discovered over 3000 boxes containing 30,000,000 Jin Ling cigarettes produced in the warehouse of Galaxy Tobacco SA Company in Sfantu Gheorghe, Central Romania, a press release of the institution informs.
According to information remitted to HotNews.ro, cigarettes were destined to European markets or third party countries and their value is 3 million euro.
According to the National Fiscal Administration Galaxy Tobacco produced in its warehouse at Sfantu Gheorghe 10,000 boxes of cigarettes that it already sold, and the average estimated market value is 10 million euro.
Read more on Hotnews.ro