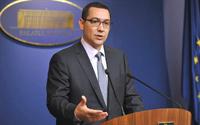 All people who are guilty of corruption deeds, no matter what party they are members of, must be sent to prison, Premier Victor Ponta told the Antena 3 TV station.
'For me he who is corrupt, not only from PDL [the opposition Democratic Liberal Party], but also from PSD [the ruling Social Democratic Party] and from PNL [the ruling National Liberal Party] and from PC [the ruling Conservative party] must be sent to prison. Therefore, we make no difference such as their corrupt people are bad and our corrupt people are good. … There are corrupt people who must pay and there are honest people who must no longer be persecuted as people who voted in the referendum were persecuted by Mr Morar and DNA [National Anticorruption Directorate],' said Ponta.
The Premier explained that he nominated Laura Codruta Kovesi for the position of DNA chief prosecutor in order to remove any suspicion connected to the files of some USL politicians.
Read more on Financiarul.ro