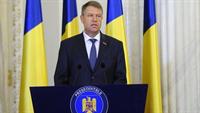 The High Court of Cassation and Justice on Wednesday dismissed an appeal lodged by the National Agency for Integrity and ruled that President of Romania Klaus Iohannis was not in a situation of incompatibility while serving as mayor of Sibiu.
The High Court judges dismissed the Agency appeal as being groundless and sustained a ruling passed by the Court of Appeal in Alba Iulia (central Romania) on Sept. 25, 2013, which had established that Iohannis was not in a state of incompatibility.
As a result, the report drawn up by the Agency in this case was cancelled, with the ruling being final.
In April 2013, Iohannis was declared to be in a state of incompatibility by the Integrity Agency, since he was simultaneously mayor of central Sibiu city and a city representative in the General Shareholders Assembly of the Water and Sewerage Company and the Farmer's Markets Company.
Read more on Financiarul.ro