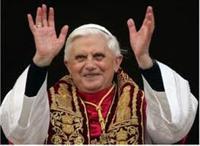 The meeting of Romanian President Traian Basescu and Pope Benedict XVI ended with the two personalities exchanging gifts.
President Traian Basescu presented the Holy Father a with a fine art edition of the Four Gospels book, mentioning how important this is to Orthodoxy and that it was printed under the supervision of the Romanian Orthodox Church.
The Pope thanked for the gift and, after turning a few pages, remarked that it is "extraordinary."
Pope Benedict XVI told the Romanian head of state that he has a somewhat smaller gift for him – a commemorative medal of his pontificate.
Before exchanging gifts, President Traian Basescu introduced his spouse Maria to the Pope, as well as the rest of the official delegation that accompanies him on his visit to the Vatican.
Read more on Financiarul.ro