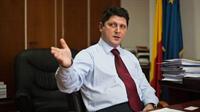 Romania's Foreign Affairs Minister Titus Corlatean is participating today in an extraordinary meeting in Brussels of the Foreign Affairs Council of the European Union concerning the situation in Ukraine.
Romania's Foreign Ministry (MAE) reports in a press release that at the ministerial meeting there will be a wide debate on the most recent developments and the European Union's approach on the situation of Kyiv.
MAE says the Romanian chief diplomat will reiterate deep concern with the recent developments, as well as firm disapproval of violence.
At the same time, he will highlight the importance of EU's encouraging internal political dialogue, the only manner that can allow finding a sustainable solution to the current crisis in Ukraine.
Read more on Financiarul.ro