Van Rompuy visiting Bucharest on Thursday, scheduled to meet president, prime minister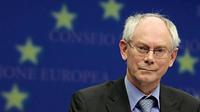 The European Council President Herman Van Rompuy will pay a visit to Bucharest on Thursday, on which occasion he will meet both President Traian Basescu and Prime Minister Victor Ponta.
According to Van Rompuy's official schedule released on the European Council website, the meeting with President Basescu will take place at 5:15 p.m. and with Ponta at 6:30 p.m. Both meetings will be followed by press statements.
The Romanian president signed a decree on April 16 bestowing Van Rompuy a distinction for the support rendered Romania on its route to integration "into the fundamental structures" of the European Union.
Read more on Financiarul.ro