Valeriu Tabără: Foreigners will not have restriction-free access to Romanian farmland during my term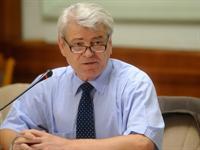 Agriculture Minister Valeriu Tabără said yesterday that as long as he was in office, foreigners would not be allowed to buy farming land in Romania without restrictions.
"Foreigners can buy farming land in Romania with some restrictions (i.e. only through a company, not as individuals). They will not be lifted as long as I am a minister. Romania's agricultural security will not be affected," says Valeriu Tabără, Minister of Agriculture and Rural Development.
Read more on ZF.ro