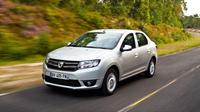 Dacia's biggest market in 2012 will be the UK, according to company officials, the third big European market that the French have set out to conquer with the Romanian brand, after France and Germany.
"We are hoping the UK will outrank France as far as Dacia sales are concerned. To start with, the first model available in the UK as of 2012 will be the Duster SUV, with the range to be later expanded," said Rafael Treguer, the brand's global development manager.
In 2010 the biggest market for Dacia was the French market, with 110,000 vehicles sold, up nearly 70% against the previous year, according to company data.
Read more on ZF.ro