Two consecutive earthquakes, of 3.4 and 3.3 degrees on Richter scale in Vrancea area, on Friday morning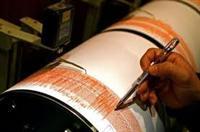 An earthquake measuring 3.4 on the Richter scale occurred on Friday morning at 3:49 local time ( 0:49 UTC), at a depth of 82 km, in Vrancea seismic zone, Vrancea County ( northeast of Bucharest ), followed , two seconds later, by a second tremor of 3.3 on the Richter scale at a depth of 70 km, according to the information posted on the website of the National Institute for Earth Physics ( INFP ).
This week, six earthquakes hit Vrancea area, with a magnitude of over 3 on the Richter scale, respectively on October 22 — 3.8 degrees, on October 23 — two earthquakes with a magnitude of 3.1 degrees, on October 24 — 3,2 degrees and on October 25 — 3.4 and 3.3 on the Richter scale.
The same seismic zone was affected, on October 6, 2013, by an earthquake with a magnitude of 5.5 on the Richter scale, the largest in 2013, being also felt in Bucharest, as well as in northern Bulgaria and the Republic of Moldova.
Read more on Financiarul.ro