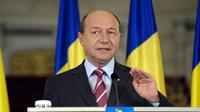 President Traian Basescu returned on Tuesday after 10:30 am to the Cotroceni Palace after 52 days of suspension from office, resuming the term he won in the 2009 presidential elections.
Basescu's return follows Parliament having officially taken note on Monday of the Constitutional Court ruling that nullifies the July 29 referendum. The Court's ruling was published on Monday evening in the Official Gazette, after it was read out in the plenary sitting of the lawmaking body.
On July 6, Parliament decided to suspend Basescu from office. After this move, the Senate chairman, Liberal Crin Antonescu, took over as Romania's interim President.
During the referendum campaign, Basescu has all the time maintained that all he cares for is not the presidential seat at Cotroceni, but Romania's European future.
Read more on Financiarul.ro