Tennis: Simona Halep qualifies for semifinals of the WTA Finals Tournament in Singapore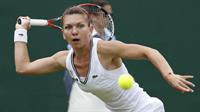 Romanian tennis player Simona Halep on Thursday qualified for the semifinals of the WTA Finals taking place in Singapore, after Serena Williams lost her first game in the match against Canadian Eugenie Bouchard, in the red Group of the competition.
After winning her two first matches in Singapore, against Eugenie Bouchard (6-2, 6-3) and Serena Williams (6-0, 6-2), the Romanian player will have its last match in the Red Group against Ana Ivanovic on Friday. Simona Halep defeated Ivanovic last year in the WTA Tournament of Champions, the Masters "B" category, in Sofia, Bulgaria, 2-6, 6-1, 6-3, and this year again in Madrid, 6-2, 6-2. Ivanovic defeated Halep last year in Doha, when Halep abandoned after the first set (the score being 6-3) and she also took advantage this year in the quarterfinals of the Beijing tournament when Simona Halep withdrew from the competition with a hip injury.
Read more on Financiarul.ro