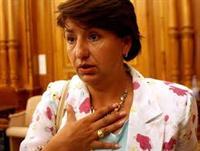 Sulfina Barbu was sworn in Monday before Romanian President Traian Basescu as the new Labor Minister, in the presence of Prime Minister Emil Boc, Lower House Speaker Roberta Anastase and Government officials.
The event was also attended by presidential advisors and Constitutional Court president Augustin Zegrean.
Basescu on Friday signed the decrees dismissing Sebastian Lazaroiu from the position of Labor Minister and appointing Sulfina Barbu to replace him.
Read more on Mediafax.ro