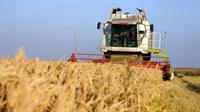 Romania's cereal production increased last year by 24.4 pct, reaching 20.785 mln tonnes, from the 16.713 mln tonnes registered in 2010; Romania preponderantly cultivates maize and wheat, which account for 49.8 pct and 36.8 pct, respectively of the total cultivated surface, shows data released on Friday by the National Statistics Institute (INS).
The rise in the country's production of cereals was due to per hectare yields (average production per hectare) growing by 37.1 pct for wheat; 23.5 pct for barley and two-row barley; 21 pct for oats; 3.6 pct for maize.
According to INS data, the wheat production last year was 7.103 mln tonnes compared to 5.812 mln tonnes in 2010, that of barley and two-row barley was 1.355 mln tonnes (1.311 mln tonnes in 2010), whereas the production of oat last year topped 376,000 tonnes, compared to 304,000 tonnes in 2010.
Read more on Financiarul.ro