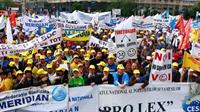 Romanian unionists are protesting Wednesday in capital Bucharest, near the Parliament Palace, over the new Labor Code for which the Government faces a vote of no-confidence.
Union leaders said they expect about 50,000 people from the entire country to attend the rally.
Opposition party leaders Victor Ponta and Crin Antonescu have said they would attend the protest.
Read more on Mediafax.ro