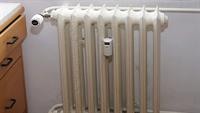 The Romanian Senate's committee for administration on Tuesday adopted a favorable report on the government ordinance eliminating state subsidies for household heating, although the vote was tied.
Emergency Ordinance 69/2011 concerning the household heating centralized systems received five votes for and five against from the committee. The members of the ruling coalition argued that committee chairman Marius Necula's vote is the tiebreaker in such a case.
Social democrat senator Sorin Lazar challenged this point and announced he would notify the Senate plenum about the situation.
Read more on Mediafax.ro