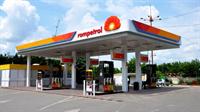 Romanian oil company Rompetrol increased fuel pump prices Wednesday by up to 0.09 lei (EUR1=RON4.1869) per liter, a day after OMV Petrom (SNP.RO) operated a similar increase.
Thus, Rompetrol fuels now have prices between RON5.3 and RON5.97 per liter, according to company data.
OMV Petrom, which holds a 40% share of the fuel market, upped its pump prices by RON0.09 Tuesday. The company, owned by Austria group OMV, is a pricing trend setter on the market.
Read more on Mediafax.ro