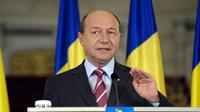 Romanian President Traian Basescu left for a working visit to Washington on Tuesday morning. The agenda includes the signing of bilateral accords and the head of state is accompanied by the Chief of the General Staff, the ministers of Defense and Foreign Affairs, by the heads of the intelligence services and by the US Ambassador to Bucharest, according to Romanian news agency Mediafax.
Mediafax also quoted diplomatic sources saying on Tuesday that Basescu will use the occasion for a meeting with CIA director David Petraeus.
The presidential administration announced the visit on Tuesday and only mentioned "the signing of bilateral accords" as the purpose of the US talks.
Read more on Hotnews.ro