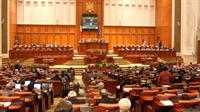 The committee for legal matters in the Romanian Chamber of Deputies approved Wednesday anticorruption prosecutors' request to have democrat liberal MP Dan Pasat placed under preventive arrest on corruption charges.
The commission members voted ten to eight in favor of the prosecution's request and four votes were null, said committee president Daniel Buda.
The final decision will be made by the Chamber of Deputies in plenary session.
Read more on Mediafax.ro