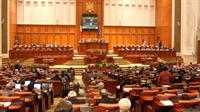 The Romanian National Integrity Agency (ANI) asked general prosecutors to investigate a possible conflict on interest in the case of several lawmakers who hired their first-degree relatives in parliamentary offices, the agency said in a press release Monday.
The MPs targeted are Oana Niculescu Mizil, Sonia-Maria Draghici, Mihai Radan, Stelica Iacob Strugaru and Andras-Levente Mate.
ANI started investigations in the case in November 2010 and found that the five lawmakers violated the provisions of Law 161/2003 ensuring public office transparency, preventing and punishing corruption. The agency notified general prosecutors regarding a possible conflict of interest.
Read more on Mediafax.ro