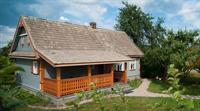 Romanian housing prices will continue to decrease slightly in the first half of the year and will stabilize in the second half, according to evaluation firm Darian.
Company representatives said they expect foreclosures to continue this year, which, coupled with more relaxed financing conditions, should ease real estate transactions this year.
The liquidation of real estate guarantees on non-performing loans, which will allow investment funds to buy these loans in bulk, will be another phenomenon noted in the market this year, Darian added.
Read more on Mediafax.ro