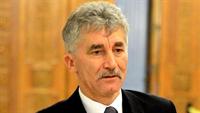 Romania's Government will seek a confidence vote in Parliament to adopt the act on the country's administrative reorganization, Democratic Liberal Party general secretary Ioan Oltean announced in a press conference on Friday.
The government's proposal is to reorganize the country into eight counties, from the current 41. According to Oltean, this new system would improve European Union fund absorption and increase the efficiency with which these funds are used. He pointed out that the EU has not explicitly asked Romania to implement a new territorial organization.
The new counties would have their capitals at Cluj-Napoca, Brasov, Timisoara, Craiova, Constanta, Iasi, Ploiesti and Bucharest.
Read more on Mediafax.ro