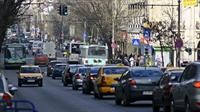 Romania's ruling coalition decided to allow the Government to apply a pollution tax upon the first sale of cars brought to Romania before the enforcement of this new car tax system, people familiar with the matter told Mediafax Monday.
According to the sources, the Government will decide the level of the new tax.
People close to the matter said last week the Government postponed a decision to change the car tax to first draw up an impact analysis and discuss the matter within the ruling coalition.
Read more on Mediafax.ro