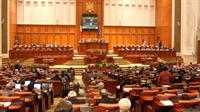 The Romanian Parliament on Wednesday started debates on the no-confidence motion submitted by the opposition over the country's new Labor Code for which the Government sought lawmakers' vote on confidence last week.
Prime Minister Emil Boc and the members of his Cabinet attend debates. The meeting is presided over by Chamber of Deputies Speaker Roberta Anastase.
The no-confidence motion needs 236 pro votes to be adopted.
Read more on Mediafax.ro