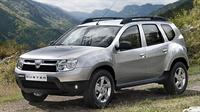 Romanian carmaker Automobile Dacia has started the production of a new Duster model exclusively for export, Renault Romania director of communications Anca Oreviceanu said Wednesday.
The new SUV has a 2-liter gasoline engine with 140 hp.
Dacia, owned by French group Renault, invested over 57 million lei (about EUR14 million) last year to produce an engine block for a new family of engines.
Read more on Mediafax.ro