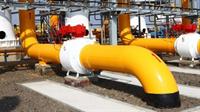 Romania imported a usable natural gas quantity of 1.459 million tons of oil equivalent by this mid-year, down 28.79 percent (586,800 toe) from the first half of 2011, show figures centralised by the National Institute for Statistics.
The domestic natural gas production totalled 4.321 million toe Jan. to June, up by 2,900 toe (0.1 pct) on the six months of last year.
A British Petroleum survey says the Romanian proved natural gas reserves amounted to 100 billion cubic metres at end-2011, down 500 billion cubic metres from the 2010 reserves put at 600 billion cubic metres; such Romanian reserves accounted for 0.1 percent of the global reserves, down from 0.3 percent in the prior year.
Read more on Financiarul.ro