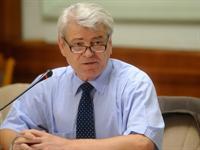 Romanian Agriculture Minister Valeriu Tabara told a news conference Tuesday the ministry wants to subsidize price hikes for diesel fuel used in farming if it gets the approval of the European Commission.
Romania's Government already subsidizes part of the excise duties on diesel fuel but the minister said farmers need more aid.
"Fuel prices have increased 30-35%. We want to cover these price hikes, but any change must be notified to the European Commission," said Tabara.
Read more on Mediafax.ro