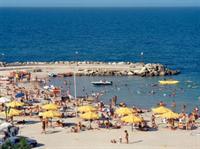 Corina Martin, head of the Romanian Tourism Agency Association and of the "Litoral-Delta Dunarii" Association, said Thursday that hotel revenues were 10% lower this summer compared to last year, despite a slight increase in the number of tourists.
She explained that tourists preferred shorter holidays, booked through special promotional offers.
Tour agencies were severely affected by a slump in the first part of the summer, when revenues were even 40% lower than last year. Starting in the middle of the season, revenue began growing and the summer ended with four sold-out weekends, which nevertheless failed to compensate for the earlier decline, said Martin.
Read more on Mediafax.ro