Romania Supreme Court decides: influential politician Dan Voiculescu collaborated with Ceausescu-era secret police, the Securitate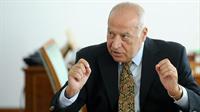 The Supreme Court rejected on Thursday an appeal submitted by the Dan Voiculescu, founding president of the Conservative Party, against a previous decision by which he was declared a collaborator of the Ceausescu-era political police, the Securitate.
Todays' decision is final and cannot be appealed. Voiculescu reacted by saying the verdict was incorrect and that the case will be cleared at the European Court of Human Rights.
Read more on Hotnews.ro