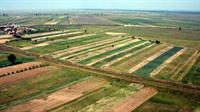 Romanian Agriculture Minister Valeriu Tabara told a news conference Tuesday the country's land law must be amended to forbid parceling out small farms when selling them.
According to the minister, the law should be amended so small farms will not be sold in pieces.
Tabara wants leaseholders to have preemption right over the land they hold.
Read more on Mediafax.ro