Romania May Have Imported Dioxin-Contaminated Pork From Germany - Local Producers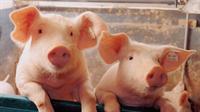 Romanian pig breeders say pork contaminated with dioxin, a carcinogen, may have made its way into Romania from Germany and ask that imports from this country be stopped.
"I suspect dioxin-contaminated meat will enter the country, if it has not done so already," said Gheorghe Caruz, head of a pig breeders' association.
Caruz recommends the exclusive consumption of locally-produced meat, as imported products may contain dioxin. He also said the price of imported pork dropped to EUR1.12 per kilo from EUR1.5 after Germany announced the detection of dioxin contamination.
Read more on Mediafax.ro