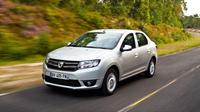 Spanish car importers' association ANIACAM Wednesday said new registrations of Romanian-manufactured Dacia model fell 34% on the year to 5,771 units in January to May, amid an overall market decline of 26.5%.
The carmaker, owner by France's Renault, sold 3,071 Dacia Duster on the Spanish market in January to May, 2,270 Logans and 430 Sanderos.
Dacia's market share in Spain decreased to 1.6% at the end of May, from 1.8% in the year-earlier period.
Read more on Mediafax.ro