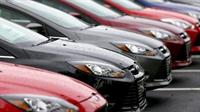 Romanian new car registrations rose 31.8% on the month to 4,999 units in April, but were down nearly 44% from the year-earlier month, Interior Ministry data showed Wednesday.
In March, new car registrations were at 3,793 units, according to the ministry's license and car registration division.
Overall new auto registrations -- including commercial vehicles, trailers and special purpose vehicles -- reached 6,803 units in April, down 34.7% on the year.
Read more on Mediafax.ro