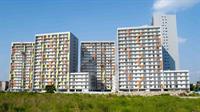 Apartment rents in Romania fell by up to 12% in March compared with September as owners preferred to rent out dwellings rather than sell them, according to a survey of property website imobiliare.ro.
The increasing number of apartments up for rent countrywide raised the total supply and, implicitly, lowered rents, the website's manager Adrian Erimescu said Thursday.
The largest drop in rent prices was observed for one-room apartments in Constanta, namely by 11.9% and in Timisoara, by 8.9%. Two and three-room apartments in Cluj-Napoca saw a 7.2% and, respectively, 8.3% decrease since last fall, Erimescu also said.
Read more on Mediafax.ro