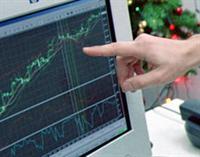 Shares of Intercontinental Bucureşti (RCHI) hotel company have skyrocketed on the Bourse over the past month amid rising transactions. The company has budgeted profit for this year, after nine consecutive years of losses.
Intercontinental company controls the five-star hotel of the same name in downtown Bucharest.
At the price its shares traded yesterday, of 0.113 lei, the company's capitalisation stands at 94m lei (23m euros), 40m lei higher than a month ago, when the stock price amounted to 0.065 lei.
Read more on ZF.ro