Radu Stroe: There are major amendments in permanent electors' lists that can reverse situation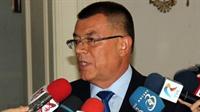 Delegate Minister for Administration Radu Stroe on Sunday said that all data requested from the local administrations were received and that there were major amendments in the permanent electors' lists that could reverse the situation at the Constitutional Court.
According to him, the situation of citizens on the election lists and not having identity documents was going to be analyzed.
'We shall analyze this situation. I would not want to get into details because I have not all details, but it is a significant category of people whose identity documents have not been expired for one or two months, but for years, 2, 7, 10 years. With the deceased, the situation is clearer, as it can be verified and confronted with the House of Pensions and with the Insurance House, but there also are those abroad,' Radu Stroe said.
Read more on Financiarul.ro