President Basescu's address to the Parliament: I believe it would be a great mistake not to accept the limitations to immunity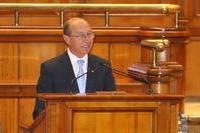 President Basescu addresses the Parliament on matters of internal politics, news agency Agerpres informs. The chief of state said that he believed it was necessary to address the Parliament to underline some o the elements proposed for the revision of the Constitution.
During his speech, opposition leaders Crin Antonescu and Victor Ponta talk to journalists in another chamber of the Parliament. News television Realitatea TV airs images without sound with the two leaders of the opposition talking to journalists.
Read more on Hotnews.ro