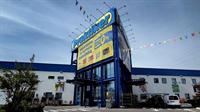 Real estate investor Bluehouse Capital, one of the major office space owners in Bucharest, paid nearly 10 million euros for the land and the 8,300 square-metre building of the Praktiker store in Craiova, in this year's first real estate transaction, according to ZF information.
The store was held by Cypriot businesspeople Savva Stylianos and Panayi Panayiotis through Omilos Investments, with the two investors also being involved in developing ERA shopping parks in Oradea and Iaşi.
"Bluehouse bought the Praktiker store in Craiova for nearly 10 million euros," sources from the real estate market told ZF.
Read more on ZF.ro