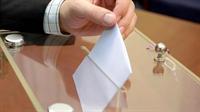 PSD-UNPR-PC (the Social Democratic Party, the National Union for Romania's Progress, the Conservative Party) electoral alliance in the elections to the European Parliament carried out on Sunday obtained 37.25% of the electors' options, the National Liberal Party (PNL), 14.86%, and the Liberal Democratic Party (PDL), 12.36%, according to the partial results the Central Electoral Bureau (BEC) supplied on Monday morning.
Moreover, independent candidate Mircea Diaconu gathered 6.95% of the votes and the Hungarian Democratic Union of Romania (UDMR), 6.48%, BEC spokesman Marian Muhulet pointed out.
The People's Movement Party (PMP) obtained 6.24% of the votes, Dan Diaconescu — People's Party (PP-DD), 3.62%, and the Greater Romania Party (PRM), 2.71%. The Civic Force (FC) obtained 2.64% of the votes cast by electors, the Romanian Ecologist Party (PER), 1.18%, the Farmers' Alliance (AA), 0.95%, and the Christian Democratic National Peasant Party (PNTCD), 0.91%.
Read more on Financiarul.ro