PM Ungureanu says Romania is interested in European Council debate on discrimination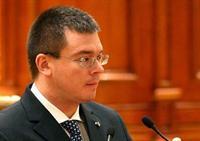 Prime Minister Mihai-Razvan Ungureanu told EU ambassadors in Bucharest that Romania is interested in the organization of a European Council debate on the discriminatory attitudes towards European citizens, the government informed.
Premier Mihai-Razvan Ungureanu met at the Lakeside Villa 1 with the ambassadors accredited to Bucharest of the EU Member States.
"The Prime Minister highlighted Romania's interest – as already previously expressed during talks with European officials – in the organization of a debate at the European Council on the challenges to the idea of United Europe, including discriminatory attitudes towards the citizens of Europe," the government informed in a release to Agerpres.
Read more on Financiarul.ro