PM Ponta to go on official visit to Germany to meet Chancellor Merkel, Daimler officials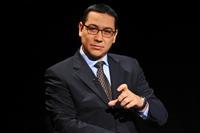 Romania's Prime Minister Victor Ponta will be on an official visit to Germany, today and tomorrow, at the invitation of Germany's Chancellor Angela Merkel, to discuss bilateral relations, European and regional themes as well as Romania's domestic policy.
The visit is scheduled to start with a meeting with co-chair of the Deutsche Bank's management board Jurgen Fitschen. Afterwards, Ponta will attend a conference on new prospects for cooperation between Romania and Germany.
He will also attend a conference held by the Friedrich Ebert Foundation on Romania's contributions to a Social and Democratic Europe.
On Monday evening, Ponta will be welcomed by Merkel at the min office of Germany's Federal Chancellery. After the meeting, the two officials will hold a joint press conference.
Read more on Financiarul.ro