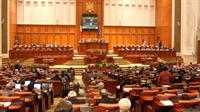 The leader of the parliamentary group of the PSD in the Chamber of Deputies, Mircea Dusa, has filed, on behalf of the Opposition, the censure motion called "Stop the Government that can be blackmailed. Not so, never!", at the cabinet of the Speaker of this legislative forum.
"Just as USL co-presidents had announced, we have tabled the censure motion against Ungureanu Government focused on three topics. (…) The motion spans upon 15 pages and is signed by 116 deputies and senators. (…) We kept a large number of signatures of deputies and senators to enable us in this Parliamentary session to table a censure motion", Dusa said.
According to the Social Democrat MP, the motion is structured in three chapters.
Read more on Financiarul.ro