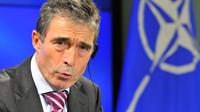 Romania has a strong position inside NATO and the fact that Romania's ambassador to NATO Sorin Ducaru on Wednesday was appointed assistant to the NATO secretary general for emerging security threats is an expression of this fact, NATO Secretary General Anders Fogh Rasmussen told in an interview.
Ahead of a visit to Romania, Rasmussen says Romania is a very valued ally of the NATO and he will thank all the political leaders of Romania for Romania's substantive contribution to NATO-led military operations, particularly the mission in Afghanistan, voicing hope that Romanian troops will also take part in the training, assistance and advice mission in Afghanistan after 2014, saying Romania is very active in a series of multinational projects illustrating the smart defence concept.
In the exclusive interview, Rasmussen also talked about he protection offered to Romania for its involvement in the NATO missile defence system.
Read more on Financiarul.ro