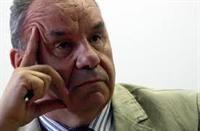 Minister of Foreign Affairs Andrei Marga will pay an official visit to the State of Israel from Monday till Wednesday at the invitation of his counterpart Avigdor Lieberman.
According to a release issued by the Ministry of Foreign Affairs, the visit to Israel supports the logic shared by the Romanian and Israeli Governments on deepening the bilateral cooperation relations.
During the visit the Romanian chief diplomat will have consultations with his Israeli counterpart Avigdor Lieberman. The talks are to focus on the stage of the bilateral relations between Romania and the State of Israel, with emphasis on the prospects to turn to account the economic opportunities existing in a number of connected fields.
Read more on Financiarul.ro