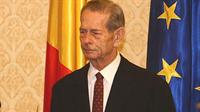 King Mihai on Friday bestowed decorations on politicians, diplomats and literati at the Elisabeta Palace to mark May 10, the King's Day. Among the recipients was former leader of the National Liberal Party (PNL) MP group in the Chamber of Deputies Calin Popescu-Tariceanu, who came to the event accompanied by his nonagenarian mother, and MP Theodor Paleologu, who was accompanied by his teen son Mihai.
After receiving the decoration, Paleologu said that the Mihai I for Loyalty medal presented to him makes him think of his father about whom he said was the first monarchist in Romania after the 1989 anti-communist revolution.
'The Mihai I for Loyalty Medal is a plus in my eyes because it is about a direct connection with this king. It is a medal created by King Mihai I, not some decoration inherited from his predecessors,' said Paleologu.
Read more on Financiarul.ro