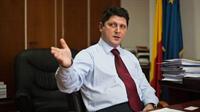 Justice Minister Titus Corlatean on Friday attends the meeting of the EU's Justice and Home Affairs (JHA) Council, to be held in Luxembourg, where he is also scheduled to have official bilateral meetings with his EU counterparts.
According to a release of the justice ministry, the attending ministers will discuss a proposal for a directive on the right of access to a lawyer in criminal proceedings and on the right to communicate upon arrest; a proposal to reform the Brussels I Regulations; a proposal for a regulation on a Common European Sales Law, as well as proposals for regulations of the 2014-2020 multiannual financial framework and a decision concerning the 2013-2018 multiannual framework for the European Union Agency for Fundamental Rights.
On the sidelines of the JHA Council, the Romanian official will also hold one-on-one meetings with his EU counterparts.
Read more on Financiarul.ro