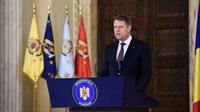 Liberal head Klaus Iohannis dedicated his win in Sunday's presidential elections to the Romanians and stressed Romania 'has built up strength to get well'.
'This victory is not mine, it is yours, the Romanians! Together we have showed during the last months that impossible does not exist, that anything can be achieved through belief and determination. Through you, Romania has built up strength to get well. I need you, because our Romania begins now!', Iohannis wrote on his Facebook page.
Christian Liberal Alliance's candidate Klaus Iohannis got 54.66 percent of the vote in the second round of the presidential elections on Sunday, while Prime Minister Victor Ponta, the candidate of the Social Democratic Party - National Union for Romania's Progress - Conservative Party alliance polled 45.33 percent, according to partial results supplied by the Central Electoral Bureau (BEC) early on Monday after centralizing the reports from 18,188 polling stations accounting for 96.50 percent.
Read more on Financiarul.ro