Giurgiu-Ruse pipeline to be operational from this July, shipment via Arad-Szeged from July 2014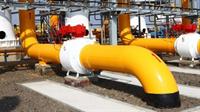 The gas pipeline linking the southern Romanian Danube River port of Giurgiu to Bulgarian Ruse will become operational in this July, with deadline being June 30, but the project will be delayed for a week or two, the Gas Dispatcher's Office head with gas distributor Transgaz told a conference staged by the National Romanian Committee of the World Energy Council on Thursday.
Marius Stroia said "Romania has fulfilled its tasks with respect to the Giurgiu – Ruse pipeline. Still to be completed is the crossing under the Danube. The final deadline is June 30, 2013, it is possible there will be a delay of a week or two".
In the West, however, Romania will be able to ship natural gas via the pipeline linking Arad to Hungarian Szeged starting July 2014, Stroia announced.
Read more on Financiarul.ro