General Prosecutor Kovesi and US officials discuss Romanian-US judicial cooperation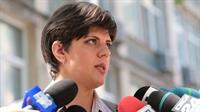 Romania's General Prosecutor Laura Codruta Kovesi and the US Ambassador to Romanian Mark Gitenstein and Delaware's Attorney General Joseph R. (Beau) Biden III had a working meeting, and approached topics such as the judicial cooperation and the experience exchanges between the Romanian and the US judiciary officials.
During the meeting, it was emphasized the fact that both the US and the Romanian sides attach importance to the law cases of underage victims, reads press release the Prosecutor's Office to the High Court of Cassation and Justice sent to Agerpres, on Thursday.
In the context of the meeting, the Romanian Prosecutor's Office officials were thanked for their efficient cooperation.
Read more on Financiarul.ro