ForMin Corlatean: We hope for favourable political decision on Romania Schengen access by year-end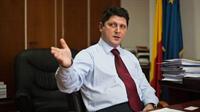 Romania expects a favourable decision for its integration into the Schengen Area before the end of this year, Romanian Foreign Affairs Minister Titus Corlatean said on Monday.
'Romania's accession to the Schengen Area stands as a priority and a legitimate right of our country as a EU member state. We have made efforts to fulfil the criteria of the Schengen Acquis, and of course when political conditions for a unanimous decision within the EU are met we have every interest to see this decision adopted in the two-step formula mentioned earlier; hopefully before the end of this year,' Romanian Foreign Minister announced after talks with visiting Dutch counterpart Frans Timmermans.
According to the Romanian chief diplomat, the two officials also talked about the European Commission's report on the Cooperation and Verification Mechanism (CVM) presented in Brussels on January 22.
Read more on Financiarul.ro