Construction of nuclear reactors 3 and 4, Tarnita hydro-power plant – a twinning project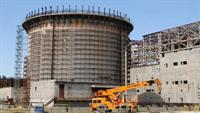 Cernavoda nuclear reactors 3 and 4 and the Tarnita-Lapustesti hydro-power plant are two projects that need to be carried out jointly, Minister-delegate for infrastructure projects of national interest and foreign investments Dan Sova declared in a televised show.
"Reactors 3 and 4 and Tarnita are two projects that need to be jointly carried out because the Tarnita plant has a rather unsubstantial logic in absence of the reactors, and the other way round, the reactors would operate with difficulty without Tarnita. They produce an energy surplus to be consumed mainly at night, when the consumption peak is lower, and then the energy put out by reactors 3 and 4 is used to pump the water in the Tarnita reservoir and in daytime, when there is a peak consumption, to use the hydropower," explained Sova.
The economic and financial analysis conducted by consultants showed that in the long run, the project of reactors 3 and 4 at the Cernavoda nuclear plant is profitable and competitive.
Read more on Financiarul.ro